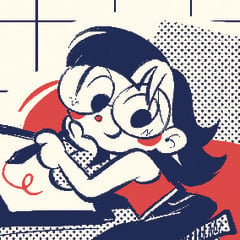 Erin Shin
Senior Visual Development Artist
Pasadena, United States
About
Erin is a Visual Development artist based in the Los Angeles area. Her past work experience includes Netflix Animation, Disney Animation, Taiko Studios, and Cartoon Network Studios.
Erin is a graduate of Artcenter College of Design (BS in Concept Design) and a Visual Development Artist specializing in character design, key art, and worldbuilding. She is an avid consumer of fantastical narrative and enjoys producing distinct designs and illustrations with a focus on mood and storytelling. In her free time, she loves cooking, baking, traveling, working out, fostering cats, and playing Splatoon & Minecraft.
Skills
Concept Design
Illustration
Character Design
Visual Development
World Building
Entertainment Art
Software proficiency

After Effects

Maya

Photoshop

ZBrush

Premiere

Procreate
Experience
Principal visual development artist focusing on lighting keys and production aid.

I led Art Center's first game capstone production, Abaddon, as an art director. I was in charge of working with production coordinators and team artists to produce the art assets needed for the project, including all designs (char/env), 3D assets, and animation.

Worked on environment art direction, lighting direction, and end credit illustrations for Junebug, Disney Animation's Intern short for 2021.

Worked on early pitch development of a unannounced animated epic.

Creating character designs, environments, and world-building pieces for a feature.

-Created visual development work for characters, environments, and props for several different IP projects


- Worked alongside Jessica Steele-Sanders (Creator of Rescue Sirens) and Chris Sanders (Co-creator and Director for Lilo and Stitch & How to Train your Dragon) to create character designs for the "Rescue Sirens" world.

- Created concept work for VR theater experiences. Including but not limited to character, key art, environment, layout, signage design, Illustration, etc.

- Collaborated closely with art directors and producers to assist with the production pipeline.

-Worked on the visual development of 16 characters for a 3D animated movie.

-Created 12 anthropomorphized designs of Chinese folk heroes, as well as 4 Chinese scholar characters.