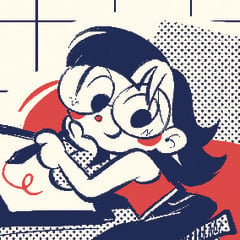 Erin Shin
Visual Development | Character Design | Email for work offer
Pasadena, United States
About
Erin is a Visual Development artist based in the Los Angeles area.
Erin is currently working towards a BS in Concept Design at Art Center College of Design whilst also working as a freelance artist in Visual Development and Character Design. She is deeply influenced by story-driven entertainment and enjoys producing colorful design and work with a focus on mood and storytelling. On her free time, she loves cooking and often merges this second passion with her personal portfolio work!
Skills
Concept Design
Illustration
Character Design
Visual Development
World Building
Entertainment Art
Software proficiency

Maya

Photoshop

SketchUp

ZBrush

Procreate
Experience
Creating character designs, environments, and world-building pieces for a feature.

-Created visual development work for characters, environments, and props for several different IP projects


- Worked alongside Jessica Steele-Sanders (Creator of Rescue Sirens) and Chris Sanders (Co-creator and Director for Lilo and Stitch & How to Train your Dragon) to create character designs for the "Rescue Sirens" world.

- Created concept work for VR theater experiences. Including but not limited to character, key art, environment, layout, signage design, Illustration, etc.

- Collaborated closely with art directors and producers to assist with the production pipeline.

-Worked on the visual development of 16 characters for a 3D animated movie.

-Created 12 anthropomorphized designs of Chinese folk heroes, as well as 4 Chinese scholar characters.